The old saying that "It Doesn't Have to be Rocket Science" when it comes to the markets got to be an old saying by being true for all these years. Despite all of the increases in technology and computer speed, in the end it mostly comes down to "Is price rising or falling?" Let's consider one the simpler approaches.
The Trend
Figure 1 displays four major indexes – The Dow, the S&P 500, the Nasdaq 100 and the Russell 2000.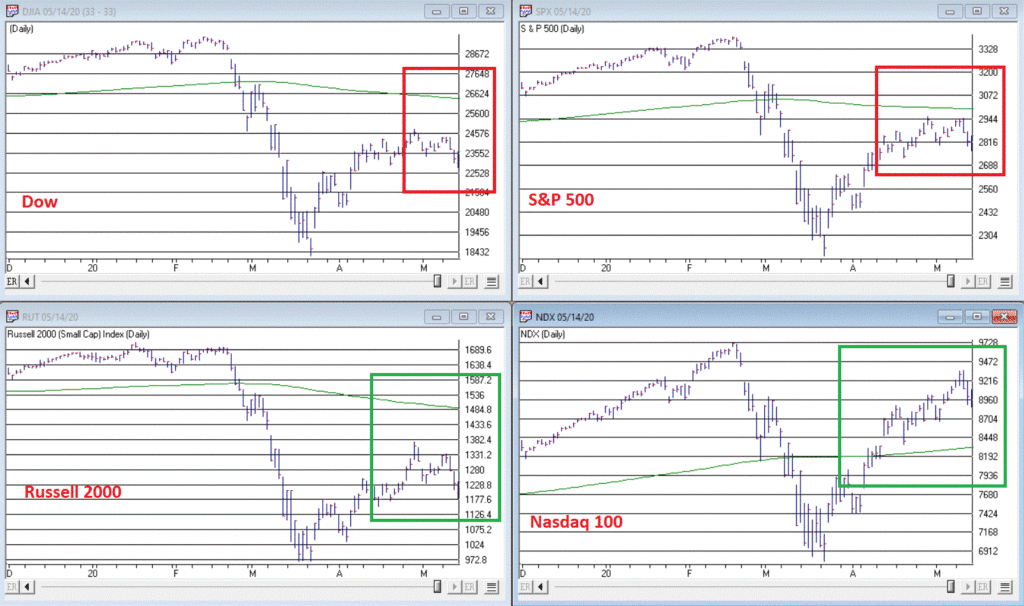 Figure 1 – 4 Major Indexes and their 200-day moving averages (Courtesy AIQ TradingExpert)
There is a great deal of useful information contained in these four charts. To wit:
*3 of the 4 are presently below their respective 200-day moving averages, i.e., in "downtrends"
*The 200-day moving average for all but the Nasdaq has now "rolled over" and is declining
Interpretation can be fairly simple:
*If these trends do not change, more trouble lies ahead
That wasn't so difficult, was it?
Of course, for most people that's "not good enough." We want to know in advance IF these trends will or will not persist. My candid reply is "Good luck with that."
My other response is "be patient, and keep a close eye on these indexes and these moving averages":
*If the indexes fail to get back above these moving average, more pain is likely to unfold (see here and here)
*If the Nasdaq fails to hold above its moving average and joins the others, chances are serious defensive action (i.e., raise cash, hedge, etc.) is in order
*If the 3 down trending indexes follow the Nasdaq higher (and also this) then the worst is likely over and a much more aggressive investment stance would be warranted.
In the immortal words of Tom Petty: "The waiting is the hardest part."
See also Jay's "A Strategy You Probably Haven't Considered" Video
Jay Kaeppel
Disclaimer: The information, opinions and ideas expressed herein are for informational and educational purposes only and are based on research conducted and presented solely by the author. The information presented represents the views of the author only and does not constitute a complete description of any investment service. In addition, nothing presented herein should be construed as investment advice, as an advertisement or offering of investment advisory services, or as an offer to sell or a solicitation to buy any security. The data presented herein were obtained from various third-party sources. While the data is believed to be reliable, no representation is made as to, and no responsibility, warranty or liability is accepted for the accuracy or completeness of such information. International investments are subject to additional risks such as currency fluctuations, political instability and the potential for illiquid markets. Past performance is no guarantee of future results. There is risk of loss in all trading. Back tested performance does not represent actual performance and should not be interpreted as an indication of such performance. Also, back tested performance results have certain inherent limitations and differs from actual performance because it is achieved with the benefit of hindsight.